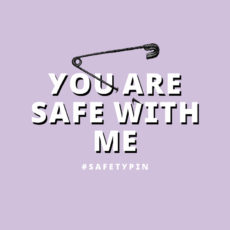 I think we all agree that the situation in the US is anything but healthy nowadays.
Since Trump won the elections -and a bit earlier to be more accurate- the country has been in total chaos, it has become a nurturing environment for hatred and violence. We're hearing of death threats, cases of attacks, harassment and vandalism, hate-provoking Nazi-style speeches, calls to make America "great" again, and attempts to label and register all those who should not "belong" in the States based on their race, color, religion, gender, or sexual orientation.
I go to sleep, trying to forget all of this is actually happening, to pretend it's some kind of a nightmare that will come to an end once I open my eyes the next day, but then I wake up to what turns out to be shockingly worse news.
Some of my friends in the US have chosen to give up the stress, they know it's a lost battle already (changing the elections' results that is), so they decided to get on with their lives, and are trying to look at any positive angle they can find, encouraging their disappointed fellow-Americans and looking for ways to spread love, trump hate, and to support those who need help, in the best of their ability.
But most of my friends in America are unable to find this comfort zone. They're unable to accept reality; they're angry. Angry at those who voted for Trump, angry at those who didn't vote for Hillary, angry at those who skipped voting altogether, angry at their regulations, government and those among them who have shown a very dark side to them and who are doing all kinds of crazy things to wreck the foundation of their society.
Most of my friends in America are now scared, they don't feel safe and are fearing for their lives and the lives of their loved ones. They're, unfortunately, hopeless and aching with despair.
To those friends I say, don't be discouraged by this crippling situation you find your country stuck in, and although you think you're helpless, you're not.
There are many like you who are fighting racism and are showing solidarity with those who are being discriminated against. And you too can do the same, by speaking your mind, by sharing any uplifting news of Americans who are combating the ailing share of their society, and are sticking to their virtues and principles. You can offer to escort those who no longer feel safe to walk around by themselves, and you can actually join what's known as the 'Safety Pin Solidarity Movement'.
After the election of Trump, many Americans were inspired by Brexit and decided to wear a safety pin in public, and sharing their pictures wearing one on social media as a symbol of solidarity with minorities; to offer help, protection and safety to anyone who needs them. And despite some efforts to stop this movement, and although a lot of people are trying to mock it  saying it's useless, many others, including some really influential celebrities are pro the movement, praising its simplicity, its non-violent nature and its noble goal.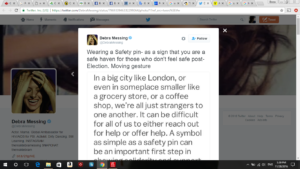 So, if you really want to help but you don't know how, do wear a safety pin, and join many others in protesting racism, opposing hatred, supporting diversity and calling for the right to protection and safety for all Americans.
More about the Safety Pin Movement: