And an inspiring bittersweet story…
I was shopping for groceries at our Sobeys the other day, and of course you all know me by now, and know my weakness for chocolates, which in my defense, is a common trait among my family members, from both sides, that we spare no chance to embrace.
So I head to the confectionery aisle to stock up on some yummy sweet goodness. And there it was, a piece of art that was literally staring back at me, the color stood out and the beautiful Arabic calligraphy (another thing I have a soft spot for) just cast an instant spell on me.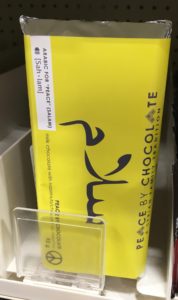 Of course I grabbed it, only to see that the word peace, which was written in Arabic (Salam) on the bar that I picked, was written in many other languages on other bars in different bold colors.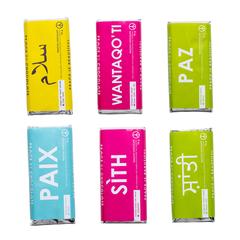 Next to the 'Peace Bar Collection' was another brown themed collection of bars by the same company: Peace by Chocolate, with really cute messages such as: "Bury the Hatchet" or "Forgive & Forget", which I've come to find out is called the 'Forgiveness Bar Collection', talk about original creativity.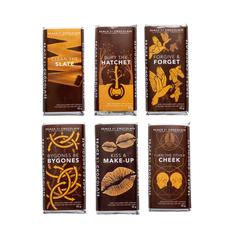 Under the brand name of these bars by this company it read: A Syrian Family Tradition.
I grabbed only two bars, the one with the Arabic calligraphy, and one of the forgiveness bars, just to test the product and look this company up.
While devouring one of the scrumptious bars, yeah I ate a whole bar by myself (blush blush), with a cup of steaming hot unsweetened coffee  (gotta watch that sugar, wink!), I did a quick search on the company, and boy did I like what I found.
So turns out the family behind this product is a Syrian refugee family, the Hadhad family, who used to own their own chocolate factory back in Syria and ship their products across the Middle East.
After their factory was destroyed in a bombing during the war in Syria, they fled to Lebanon and lived in a refugee camp there for three years.
Then they moved to Nova Scotia, Canada, and with the support of their awesome Antigonish community, they were able to get back on their feet, rebuild their chocolate company, work their magic and share their passion with their new community and now around the world.

[Video Source: CBC]
The Hadhad family vowed to give back to their community (one time they donated their profits to the Red Cross to aid in relief efforts in parts of the country that were hit hard by wild fires), and to help other refugees in Canada rebuild their lives, just like they were offered support by their community.
That's why, Peace by Chocolate "pledged to hire 50 refugees by 2022 at its facilities across Canada. In addition, they will provide mentorship and guidance to 10 refugee startups to develop their business and help 4 refugee businesses access new markets through their distribution and retailing networks." [Source: CBC ]
So no one can argue with the product's originality, artistic touch, bold packaging and awesome message: Peace. But how does it really taste?
Let me just say that once the first piece melted in my mouth, I instantly traveled back in time, to my childhood home, to our big bright kitchen, where my mom used to make us homemade chocolates from scratch on Eid, and the whole house smelled like cocoa and hazelnuts!
Yes, it was as rich, as fresh, as comforting and indulging as homemade chocolate, but with the magical touch of the finest choclatiers. It's different than other products on the market for reasons you can taste and not say.
All it took was one bite for me to become a loyal customer to this delicious perfection!
Try for yourself and get yourself one of their awesome chocolate products here. Oh, and they even have a clothing line, how cool is that?