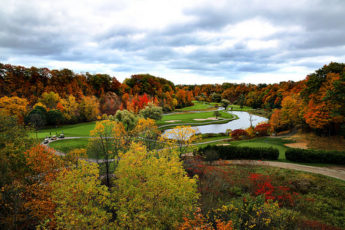 When we were looking for a house closest to my husband's work, Oakville was one of the options, but being used to city life most of my life I was really hesitant to make the move to a town.
We chose Oakville for many reasons, but the one thing that took my breath away was the iconic Glen Abbey Golf Course (GAGC); this beautiful open landscape, loaded with vibrant colors and fresh air all year round. Every time I'd miss the city's hustle and bustle, I'd pass this beautiful piece of art, like a rare painting, and think to myself: wow! this beauty is definitely worth the move.
And then I learned that ClubLink has a redevelopment plan in mind. And to make a long story short, this "redevelopment" plan will result in less greenery, more buildings, transit, and… you guessed it: more waste, carbon footprint, pollution and ugliness.
We've been living in Oakville for around 3 years now, and I'm already angry at the amount of unnecessary construction taking place almost all around my neighborhood. The uprooting of old healthy trees and the removal of beautiful fertile soil to be replaced with extra stupid housing is just ridiculous, but it generates money, lots of it, unfortunately, and that's why all the attempts of residents to stop these developments have so far failed horribly.
But to ruin a historic site of such a great cultural, national and environmental significance like the GAGC, one of Canada's most famous golf courses, and home to the Golf Canada and the Canadian Golf Hall of Fame, now that's beyond greed, that's just a shameful crime.
Many Oakville residents are OK with ClubLink's new plan, but many others are against it and are trying to stop the destruction of the GAGC and are showing their opposition to the development that will ruin the heart of te area. There are groups of people who have dedicated themselves to this cause, such as: the Save Glen Abbey Coalition, you can follow them on Facebook, and on Twitter, and the Rescue Glen Abbey group. Save Glen Abbey have begun an online petition calling on municipal, regional and provincial officials to oppose the proposed  plan.
So if you're living in Glen Abbey or are a resident of Oakville, or simply against further damaging nature and harming the environment, I ask you to please join hundreds of other disapproving residents and say no by:
No one is sure we can save the Glen Abbey Golf Course, but we're all sure we must do our part and never lose hope.