Last week, and after dropping off my older son at the Queen Elizabeth Park Community & Cultural Centre (QEPCCC) for his rock-climbing class, I thought I'd take the little one to the library in the same building to read him some books and give him the pleasure of having me chasing him around like a mad woman.
To my surprise, there was no library, there was a nice stand of books to read and share, a nice machine for picking and returning books from other branches, which I found super practical and awesome, but what would I do with my little boy for an hour and a half? After trying the lovely waiting area in the centre's lobby, and losing hope in keeping Arkan entertained, I thought I'd take him for a walk in the many lovely hallways of the building.
They were all beautifully decorated with magnificent and extremely creative art pieces, so elegantly displayed, and really tempting to look at. I got really curious, so I read the small tags next to the pieces and the signs throughout the whole place, and that's when I found about the 'World of Threads Festival'.
The festival is a not-for-profit initiative, run by volunteers Dawne Rudman (Festival Chair & Curator) and Gareth Bate (Festival Curator & Designer). It's an exhibition of contemporary fibr and textile art, featuring innovative work submitted by hundreds of artists from around the world.
Fortunately, I was able to enjoy a huge part of the exhibition in the preparation phase, all galleries are officially open to the public today Oct. 29th, and till Nov. 27th. Admission is free.
I found the display area that presented the 'Late in the Season' group show to be stunning, and fell in love with this particular piece made of natural beeswax, it looked so realistic, and in real life, with the effect of light, it just took my breath away… unfortunately my mobile camera failed to capture the beauty -and the full size- of this amazing wall-to-floor piece.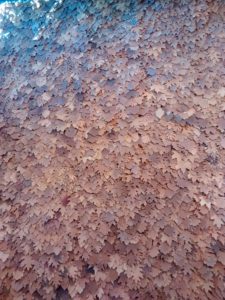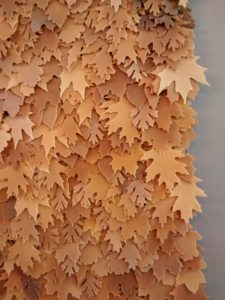 I also liked the Catwalk & Kimono Road, again, couldn't take a decent shot of the whole corridor with my rather humble mobile camera, but here's a glimpse: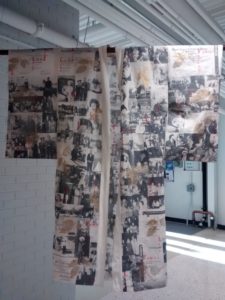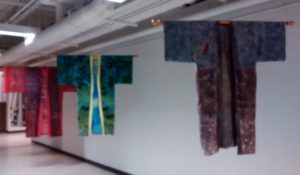 Here are some of the many pieces that caught my eye. Loved the attention to detail and the apparent hard work put in each piece.